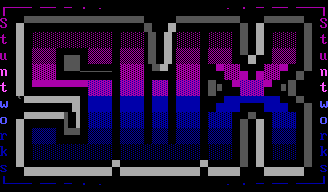 | Stuntworks Calculator Division | stuntworks.ticalc.org |
| --- | --- |
This page has been hit
times and was last updated on 4 May 1999.
The new Stuntworks Calculator Division has its own seperate webpage! Look here for information on current and upcoming Stuntworks projects.
We are now open to the public, and hosted at http://stuntworks.ticalc.org/! This site will become fully functional very soon (new sections will be added as they are completed). Hope you like the new site design!
I'm having trouble with the ticalc.org FTP server concerning subdirectories, and that's going to seriously impact my ability to add sites. I've done some reformatting to the first info page, but I'm going to need to completely redesign all existing content from the Stuntworks site to add it. I'm sorry for the inconvenience. Thanks for all the hits! I never anticipated so many hits so soon!
All site content updated earlier has now been fixed. All TI-85 archives now also have tokenized TI-86 program files in them. The only difference in most is the addition of a comment. The AD&Dchar.86p also has enhanced menus.
Welcome to the Stuntworks Calculator website. We hope you will enjoy yourselves, and find what you're looking for. Stuntworks is located in Bellflower, California, and currently has three members (a contribution does not imply membership, present, past, or future):
| Members | Contributors |
| --- | --- |
Stuntworks Members
Name
Handle
Job position(s)
Nathan Haines
Stuntman
President; QuickBASIC, Visual BASIC, and TI-BASIC programmer; Z80 ASM programmer; HTML writer; ANSI artist (the best); Go-Go Dancer
Alex Rivera
Felixcat
Artist, Turbo PASCAL programmer, Assassin, Ethics Advisor
Eric Hobbs, M.D.
Fireman
Head of Internet services, human and Xeno relations, Computer God
Stuntworks Contributors
Name
Handle
Contribution(s)
Mark Larson
Valacar
VGA Color Mixer's secret module, much other code, SWX logo
Serban Oprescu
Samus
Program loading routines, ANSI logo loading, and screen saver (QSM v1.1, not in 1.0) for QuickStart Menu
Andreas Ess
Andi
Icarus Productions: Usgard and XC-1701 II source and information
Matti Jokela
Maza
Lite Compressor algorithms and routines
Here is a list of calculator projects we are currently working on. Information will be added on each program as it is converted to HTML format.
The information page (with old versions of software) can be accessed by clicking on the title of the program, the newest version can be accessed by clicking on the program version number.
Stuntworks - This site contains all the information on PC Stuntworks projects, including XCEdit.
ticalc.org - The ultimate TI graphing calculator file archive and news site. It also carries all Stuntworks calculator projects.
Icarus Productions - With my good friend Andreas Ess and the genius Jimmy Mårdell plus many other talented people, they make cool programs!
This page and its contents are Copyright © 1996-1999 Stuntworks. All Rights Reserved.
Counter by .
All mentioned products are the property of their respective owners.
Microsoft is a registered trademark and the Microsoft Internet Explorer Logo is a trademark of Microsoft.
This site is best viewed with Internet Explorer 4.01 SP1. Care has been taken to ensure viewabilty with Netscape.
Stuntworks is in no way responsible for the contents of its members' personal homepages.
Stuntworks makes no guarantees that this HTML document will function properly, or is it responsible for damage or loss caused by use of the represented and/or mentioned products.
This web site is maintained by Nathan Haines.
Copyright © 1996-1999 Stuntworks