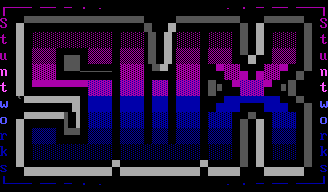 Needing an assignment sheet I wouldn't use and wouldn't have to constantly add up manually. Lacking a good one for my TI-85 (there was one good one, but I couldn't use it), I decided to make my own. It took a while, but after lots of perserverance, this program was born!
A friend of a friend really liked this program and he really wanted it, but he had a TI-83, so I used my brother's TI-82 to port the program in about three hours. Both are functionally identical.
Online Documentation
Ported TI-82 Version
HTML
Original TI-85 Version
HTML
ASCII
DOC
Bug and Update Status
Bugs
There are no known bugs, however the TI-82 version has not been tested as extensively as the TI-85 version.
Updates
The only planned updates are bugfixes, unless someone should need a port to the TI-83 (I use the program on my TI-86, there is no port needed!).
Copyright © 1998-1999 Stuntworks